On leave of absence
Karima is currently on a leave of absence. Please feel free to book with another stylist.
Karima is a Hair Stylist, Eyebrow Threading & Waxing and Eyelash Extension Specialist at Element Hair Studio.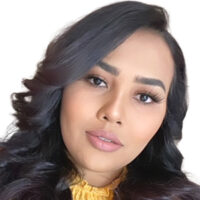 Meet Karima! She's been working in this industry for the past 2 years. Karima graduated Hairstyling and Barber Training at St. Louis Adult Learning & Continuing Education.
Being able to make a client feel beautiful after their appointment is something she always admired whenever she went to a hair salon. Having this position allows me to do that for others so it feels amazing.
Karima is pursuing her career as a colour specialist for balayage and highlights.
She says "I love how amazing and comfortable the environment is at Element Hair with the staff being very welcoming to new talent stylists".
Come visit Karima at Element Hair!
To book a consultation or appointment with Karima simply call us at 519-746-1212 or book online here.