Can you believe Lance and Kim have been in business together for 25 years!? It's truly incredible how fast time flies. From their early beginnings at their first salon in Kitchener's East-end, to their bustling 5 year-old storefront at the Boardwalk in Waterloo, these two are a duo to recognize. Together they've built an empire from the ground up and after two name changes, three big moves, and hundreds of clients; they celebrated the Element Hair 25th anniversary on Saturday, May 25th among friends, family, clients, and staff.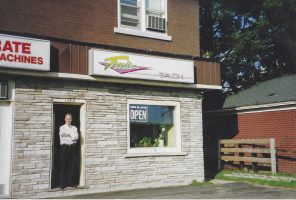 Plans for the big day started months ahead of time to make it as special and personalized as possible. Together with the help of their staff, Lance and Kim coordinated an unforgettable party filled with good times and even better memories.
The morning of May. 25th started as usual, we opened our doors for our regular 9am work day and were able to service in a few clients before making preparations for the event to come. Once we saw off the last of our guests from the morning, the staff got busy transforming our regular salon atmosphere into an intimate cocktail lounge.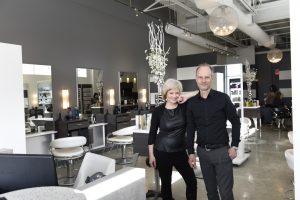 Then at 1pm we had our lovely models (and clients) Jessica and Stephanie Blackwell arrive for an Avant Garde transformation. We wanted to show our guests some of the techniques and different styles we've learned through our continuous education. So we crafted synthetic wefts into elaborate hairpieces which we fastened to their natural hair. We then had our makeup artists create a futuristic geometric-inspired look, and after fastening DIY tulle outfits and accessorizing with some stunning pieces from our friends at Hefferenan's Jewelers, they were ready to greet and chat the night away with our guests.
We were lucky enough to book local DJ Jordan Mandel a.k.a  Spoke & Mirror, for the Element Hair 25th Anniversary, to provide us with some killer tunes all night long. Originally from Toronto, Jordan has been in K-W for the last decade and Lance first saw him perform at Abe Erb in Uptown Waterloo. When we were discussing options for music, there was no doubt in our minds to go with Jordan. His original mixes will take you on a melodic journey, and his knowledge of music allowed for a range that delighted everyone.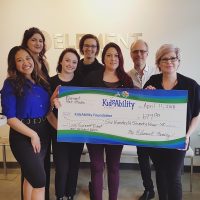 Our neighbours at Milestones were here with us for the entirety of the event to ensure everyone was full and happy. We hand-picked some of our favourite dishes to be served hors d'oeuvres style for the big day. One of our past Co-Op students, Taylor was helping out with the event as a Milestones employee. It was such a treat to see her and have her be a big part of our special day.
As a treat for our guests, we set up a DIY dessert table with all sorts of goodies for them to take home, and a two-tier cake which we all enjoyed later in the evening. We also created a signature cocktail inspired by Lance and Kim's love for NYC and whiskey 😉 The "25th and Broadway" was a take on a classic Manhattan with Honey Simple Syrup instead of vermouth, Canadian Whiskey, freshly squeezed lemon juice, basil and bitters. It was a much bigger hit than we anticipated, and we actually had to run out to get more ingredients half way through the event!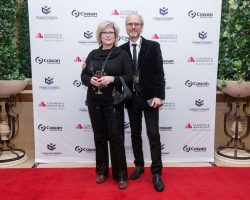 To document the evening, we had guests sign a giant photo of all our past salons, including the one we proudly operate through today. We also set up a DIY photo booth, where guests dawned eclectic wigs and accessories and were elated by the immediate prints from our funky Polaroid camera, which we added to our cute little photo wall. Among the excitement, we also encouraged quest to drop their complimentary raffle tickets into a draw for a few different prize baskets including goodies from Arrojo NYC, Dermalogica, Movati Athletic, and Adventure Guide.
Lastly, we want to thank everyone who came to celebrate with us, and a very special thank you to our guests that so generously donated to our salons continuous education fund. We strive to be the very best we can, and sincerely appreciate it. The last 25 years have been a wild ride, and unforgettable to say the least. Here's to many more years to come and a million more smiling faces through our doors.
From everyone here at Element, THANK YOU 🙂