Elumen Hair Colour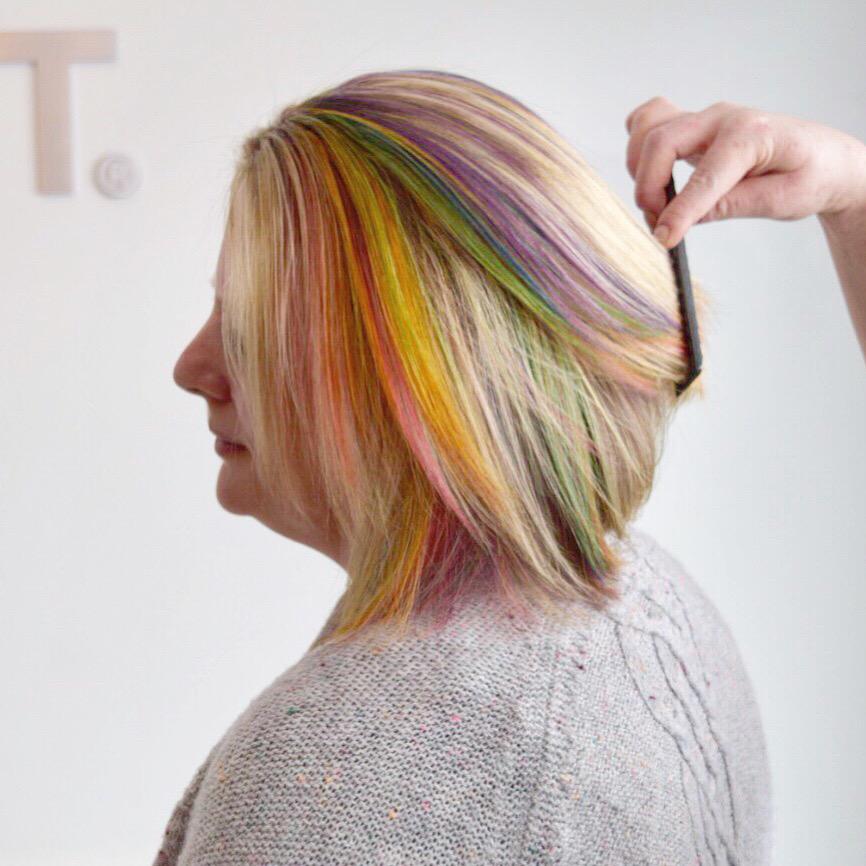 Goldwell's Elumen Colour is more than just a bottle of hair colour–it utilizes revolutionary technology to create stunning long-lasting results! Working with only a physical reaction, this high performance colour produces no chemical reaction within the hair. And it's long lasting!
Elumen is a direct pigmented, ammonia-free permanent colour that illuminates the hair inside out like never before. The out-come is intense and brilliant colour with magnificent shine. Not only that, but the colour effects are incredibly durable!
Elumen has evolved as one of the most effective ways to achieve long lasting vibrant colours as well as a non-chemical alternative to your regular colour treatments.
With all these benefits the list of perks by using Elumen are endless, but here are our top 8 reasons to try Goldwell's Elumen at your next visit:
1. Non-Chemical Reaction
Elumen works by creating a physical change to the hair, not a chemical one. This revolutionary technology uses the negative and positive charges in the hair to allow itself to cling on to the hair for a longer period of time using something called the MAGNET-EFFECT which draws the colour deep inside the hair follicle.
2. Hair Health
This colour treatment will increase the shine and feel of your hair due to it's incredibly low pH level. Say by-bye to dull, dry hair and hello to show-stopping locks! Amazing!
3. Shiny Hair
Elumen is a low pH acid colour, which means it is able to close your hair cuticle so tight that it produces a diamond-like shine that is 37% shinier than competitor brands. Not only that, but it leaves your hair super soft and reduces frizz!
4. Allergy free
If you have any sensitivities, allergies, or medical conditions this could be the colour treatment for you as Elumen is 100% ammonia free! This colour service is also safe for cancer patients, but as always if you suffer from any allergies of have experienced reactions in the past, always get a patch test prior to any colour service.
5. Colour longevity
This treatment is worth your time because it is longer lasting and holds incredible durability that produces 76% more colour intensity than other oxidative colours.

6. Colour variety
Originally, Elumen was targeted for funky bright colours that would last. Which means that now there is a whole rainbow of colours to choose from be it Bright, Deep, or Pure!
7. Toning
With Elumen, you can also achieve natural tone-on-tone colour for a sun-kissed look!
8. Grey blending
Elumen currently offers grey blending which will allow for a less obvious demarcation line at the root when regrowth starts coming in. However, new products are coming this fall that will be utilizing an updated technology to offer even more grey coverage!
Elumen is unbelievably versatile, producing excellent results for both brights and neutrals! Our clients love the results and so do our staff!
Discover your best look and feel with Elumen hair colour at your next visit.
Call 519-746-1212 now or book online today!
FREQUENTLY ASKED QUESTIONS:
Q: Will I get Complete grey coverage?
A: Elumen offers grey blending which provides about 50% grey coverage, however this fall they are releasing an updated formula that will give more complete coverage for grey hair.
Q: How long will it last?
A: Elumen is a permanent non-oxidative colour, so as long as you are using the corresponding shampoo and conditioner and are ensuring proper home maintenance for coloured hair, it will stay in the hair until it is cut out.
Q: Is there any special at-home-maintenance for this colour?
A: There is a specially formulated shampoo and conditioner that works with the same magnetic-technology as the colour that we highly recommend to ensure your colour does not fade from regular washing.
Q: Can I use my regular styling products?
A: You absolutely can, however we recommend staying away from most oil-based products as these often penetrate past the hair cuticle and push out colour from the hair.
Q: How long does this service take?
A:We normally book 2 hours for a full elumen colour as we need to properly prep the hair before applying the colour, and then we need to allow adequate processing time so the colour can push itself into the hair shaft. Of course, if your hair needs to be lightened to achieve a specific level of vibrancy we will need to book additional time for that, and alternatively if you would just like to book for an elumen glaze we normally book for 30 minutes without a blowdry.
Q: Why is this colour system more expensive than a regular colour?
A: Given the additional time necessary to properly complete the service and the high quality of the product we have adjusted pricing accordingly. All of our services are charged a-la-carte, so if pre-lightening is necessary your stylist will discuss all additional charges.
Q: Can I get bright colours if I have dark hair?
A: Elumen has an incomparable vibrancy at all levels, however depending on how dark your hair is and how bright your goal is, we may need to pre-lighten the hair prior to applying the elumen.
Discover your best look and feel with Elumen hair colour at your next visit.
Call 519-746-1212 now or book online today!