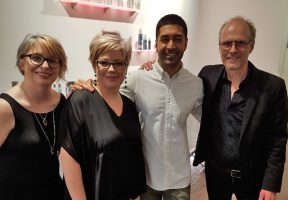 Kim, JoHannah and Lance were at the Toronto GOLDWELL Academy on May 3, 2018 having a blast elevating their craft with international artist and educator Jay Mahmood.
Jay's career in the hair industry began with training under Vidal Sassoon in London. After fifteen years in the business, stylist extraordinaire Jay Mahmood has just been named Global Artistic Ambassador for Haircutting at Goldwell. He will now lead the creation and development of haircutting collections and education for Goldwell worldwide and will be based at the Goldwell/KMS Academy in London. "The thing I love most about my job is having the opportunity to travel around the world teaching and inspiring others in the craft of hair cutting," said Jay.
During their visit to the GOLDWELL Academy Kim, JoHannah and Lance had the chance to watch and learn as Jay walked them through several different cuts. And then it was time to put them to the test, with the chance to try out everything they learned on their own mannequins. Check out the photos and videos below.
Takeaways from the day…
Kim: "Jay is meticulous and very precise in the way he sections the hair. His precision and attention to all the details, big and small, elevates the craft of hair cutting. It reaffirms and reminds me that its okay to take my time, and that attention to detail can be a good thing. Jay is also funny, charming and very handsome. I love going to classes and being able to bring back what I've learned, incorporating new techniques in everyday cuts. During the class clients names are going through my head of who I could use these new techniques for."
JoHannah's: "I learned a new way to section and cut a bob, including how to create a nice disconnected bob for someone with thicker hair, eliminating a lot of unnecessary bulk while still maintaining the structure and style of the cut. I can also see how I will be able to take different parts of the cuts we learned and use aspects of them in other cuts and styles."
At Element Hair, we pride ourselves on continually striving to be the best salon that we can be, whether that's staying one step ahead of the next big trend or practicing a technique until it's second nature. We are always learning something new and believe that education is one of the most important ways we can stay on top in our industry.
Every week, Element Hair team members get together for a morning training session where we learn anything from advanced hair cutting and colouring to customer service skills and tips. And occasionally, like this day, team members take a trip to workshops hosted in and around Toronto.