Trends are constantly changing for each season and that can make it hard to keep up! Element Hair is here to help. We have put together an updated list of the style, makeup and of course, hair trends for the 2015 winter season. We've done all the work so you don't have to.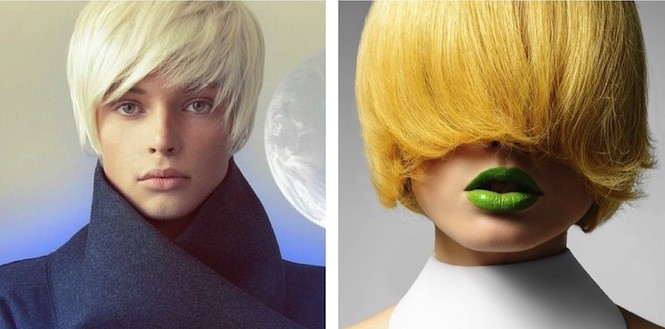 We'll start with the trends that are on all the runways this winter season. The sixties are back! Sixties inspired prints and silhouettes are super easy to add into your wardrobe. Textures like fur and feathers are everywhere whether it's on an accent piece or on a whole jacket to keep you warm for the cold weather ahead. Another article to keep you warm this winter are knits. Anywhere from sweaters or dresses, knits are sure to keep you stylish and comfortable. Bored of a plain old winter jacket or sweater? How about a cape or a poncho? Not only are they super cozy, but they have a beautiful silhouette that' s all the rage this season. Embrace the 60s – find out more.
Sportswear is in for both women and men. Dress down and be comfortable with a pair of fitted joggers. Comfortable menswear pieces are still very much in style too. Trench coats and tailored suits are great pieces to work into your wardrobe. Going to a Christmas party? A velvet dress is soft and stylish. Throw in some gold too – great accessory to dress up any outfit! For men, dress up for work in pinstripes. Wear it with a shirt matching in colour for a monochrome look. You can accessorize the look with a horizontal stripped tie and a watch.
Learn more about the biggest 2015 trends here.
Fashion trends to look for:
-gold
-fur
-feathers
-60's style and prints
-knits
-sportswear
-menswear inspires (large coats, tailored suits)
-ponchos and capes
-velvet
Makeup this season is all about the eyes (sorry to all the lipstick lovers out there.) Lashes are big and bold. Pick up a volumizing and lengthening mascara to achieve this look or use false lashes. Use blue shadow to brighten your eyes. If you're not comfortable with bright blue shadows try swapping out your darker black or brown shadows for a navy blue for a different take on the smoky eye. Shades in precious metals like bronze and gold work with almost any outfit, skin tone, and eye colour. For the rest of the face, highlighting and contouring is a great way to define cheekbones and brighten up your face for a healthy winter glow. Book an appointment with Charlotte or Wilhemina for a makeup lesson to master these winter trends. 
Makeup trends to look for:
-all about eyes
-blue
-lashes
-highlighting and contouring
-precious metals
Hair during the winter can get dry and even dull in appearance. Freshen up your look this winter season by adding shine with a colour that will turn heads! A super hot trend this winter that celebrities like Rihanna and Orange Is The New Black's Dascha Polanco are wearing is silver hair. Chocolate browns and golden blondes are great to warm you up on a cool winter day. Or be adventurous and try out some red. Reds all along the spectrum from copper to violet are in this season so there are many different ways to rock this trend.
Colour trends to look for:
-warm blondes and warm browns
-reds
-grey silver
Pantone Color of the Year is Marsala
Richness with red undertones but don't think of this as a "red" shade. The brown base is what gives it depth. Find out more. 
Another way to be adventurous with your hair this season is to cut it all off. Short hair is still a hot trend going into winter. Pixies and bobs are choppy and textured which gives a lot of versatility to wear it more sleek or to mess it up. Afraid to go short? Try out a long bob first (called a "lob" for short). Put some curls in your lob to transform it to a wob (a wavy bob)! If you're still too attached to your long locks that's fine too. Ask your stylist for a blunt cut with defined ends for your next haircut.
Another way you can freshen up a long cut is to add a longer side sweeping fringe, or you can fake it, and create a fringe by sweeping some hair across and pinning it in place. If you need to have your hair out of your face try a ballerina bun or a glossy ponytail. Spray your ponytail with some shine spray to dress it up.
Women's hair trends to look for:
-ballerina buns
-glossy ponytails
-mermaid waves
-serpent waves
-sweeping fringe
-wet look
-undone updos
-short pixies and bobs
-bobs are more textured and choppy
-long locks are blunt and have defined ends
Men's hair this season is different variations of being short on the sides and back to having more length on top. The first option is where the sides and back blend more into the top. You can also achieve this with a fade starting from nothing at the bottom and blending seamlessly into the top. Another popular style would be the undercut where the sides and back are disconnected from the top. Move away from the faux-hawk and into the edgy look of the disconnected Mohawk. Come in for a consultation with one of our stylists to find out which style will work best for you. Find out more.
Men's hair trends to look for:
-Mohawks. Move away from the faux-hawk and into the edgy look of the disconnected Mohawk.
-short sides long on top
-fade
-undercut