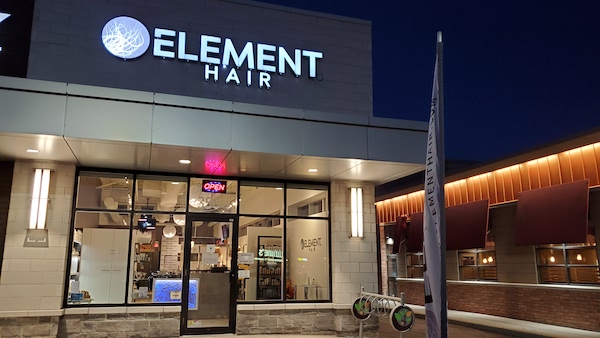 With many provinces now officially in the second wave of the COVID-19 pandemic, it's important that salons continue to be as safe and clean as possible in order to keep all stylists, employees and clients healthy.
With the initial COVID-19 lockdown majorly impacting the salon industry, many salons are uncertain of what will happen in the coming weeks and months as we continue through the second wave.
Element Hair Studio in Waterloo, Ontario has set up their salon in the hopes that there won't be another shutdown. With COVID cases in the province continuing to rise, they're trying to stay open in the safest way possible. We chatted with Lance Nielsen, the salon's co-owner, to discuss the company's extra-safe approach to reopening and plan for remaining open.
"In these times, things have changed quite a bit, as far as safety goes," says Lance. "We've done a lot of work and there's been a lot of money involved to make our salon a place that people can trust."
Their reopening plan was always top of mind ever since the initial salon shutdown, according to Lance who owns the salon with his wife, Kim.
The Waterloo hair salon was visited by a health inspector and received a perfect score for their COVID-safety procedures, which include thorough and frequent sanitization and disinfection, physical distancing, plexiglass implementation, a mandatory mask policy, infection prevention and control practices and more.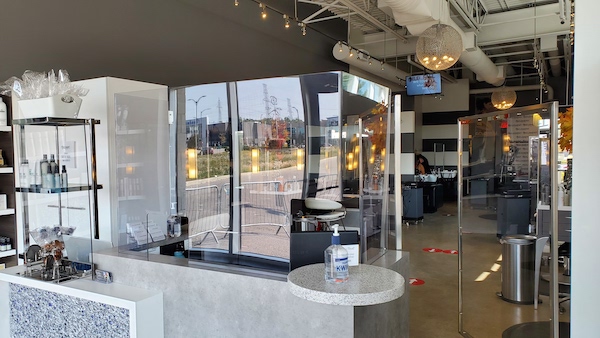 During the COVID-19-related salon shutdown in Ontario, which began in March and ended in June, many salon owners used the time they were closed to come up with ways to ensure a safe and comfortable re-opening strategy for all salon employees and guests, and Element Hair Studio was no exception. Lance says that as soon as he had to close his salon, he proactively started sourcing plexiglass and barriers almost immediately.
"There was no real guidance from the province until just days before we could reopen," he recalls. "We spent a lot of time talking with other salon owners about what they thought reopening would look like, but eventually we just went ahead and did everything. We got floor labels, barriers and readjusted our cutting station."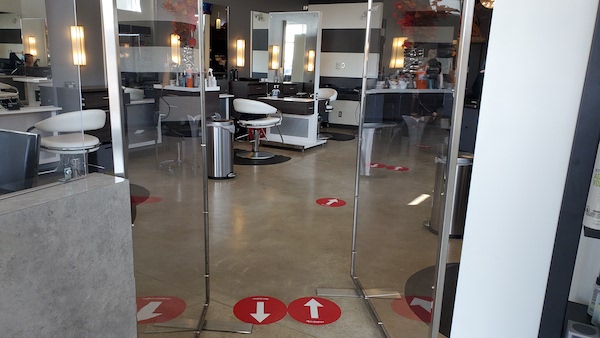 In addition to signage and enclosing the front desk area with barriers, Lance also had touchless soap and paper towel dispensers installed and implemented a strict disinfecting procedure. He ordered 200 capes for salon guests to wear during their service, which are immediately sent to the laundry after each guest. Lance also ordered aprons for staff, which are changed between every client.
Lance rearranged some of the furniture, chairs and stations in his salon to maximize space and increase physical distancing.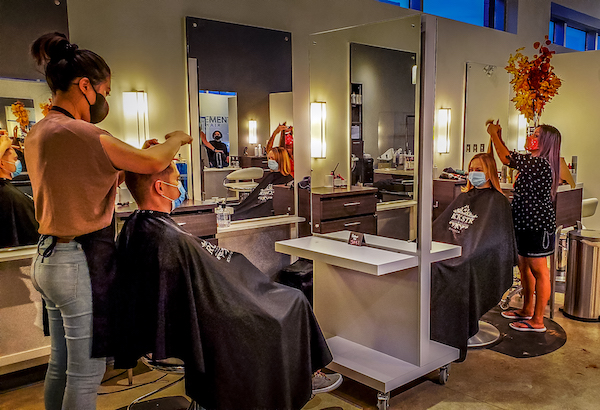 Lance believes in sticking to a system and having the entire team on board with the plan, to help ensure that his salon is not only meeting safety standards but going above and beyond in order to create an environment that his employees and guests can trust.
"We're working on developing marketing around this health report we got and getting the word out about our safety practices," says Lance. "I think we're in a good position now on how to deal with COVID. We've been learning to go with it and making sure our system is in place and having the right equipment ready so that people feel comfortable in this environment. We've always worked hard to have good sanitation practices, but we've really stepped it up."