The perm for men's hair… The "Merm" is the hot new hair style for guys.
Things that are coming back from the 80's. Parachute pants, ripped jeans, shoulder pads, jean jackets, Ray-Ban Wayfarers, and the perm for men's hair… the Merm!
What is Element's Merm you ask? Well, it's better known as the Man Perm. Think more Jon Snow or Orchestral Manoeuvres In The Dark – OMD and Mick Hucknall from Simply Red in the 80's…
Men have been enhancing their look with different haircuts and opting for hair colouring, like highlights and lowlights, but now, the Merm is becoming an ever popular option to change up their look.
Retexturizing these days is a subtler approach with different amount of curls that can be chosen, from subtle movement to a slight wave to tousled curls. By adding texture and waves it makes hair more manageable while adding body and movement.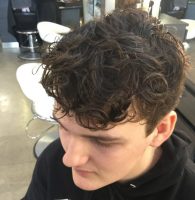 So, how long does your hair have to be for this service? In order to create a 'curl', your hair needs to be long enough to wrap around our perm rod at least three times, so, as long as you can wrap your hair round a pencil, you can have curly hair.
Stylish men don't have to have straight hair any more!!!
The process we use, the Arrojo NYC American Wave (exclusive to Element Hair in Canada), isn't as harsh on your hair as a traditional chemical perm. Using an innovative, ionic waving lotion the product penetrates the hair shaft gently, without roughing the cuticle or making it swell, which is what old-fashioned perms used to do. The ionic lotion reduces stress on tresses, creates a smoother cuticle, and makes hair fabulous and full. Instead of setting hair with hard tools, we combine soft tools with editorial techniques, so looks are fashion-forward, not frumpy.
Spread the word! #merm and get yours today!